Project Overview
allwhere is a one-stop solution that works with companies to implement remote work setups, manage the lifecycle of equipment from procurement to disposal, and craft onboarding, engagement, retention, and wellness programs. After months of growth, funding, and refining its solution, allwhere approached Ditto looking for support in launching out of stealth and building its little to no brand recognition, as well as establishing its CEO and founder Oscar Mattsson as a thought leader in the future of work community. allwhere needed a small, nimble team with experience in the future of work industry and the bandwidth to take on a launch campaign. The future of work industry is saturated with companies looking to offer the next best work environment, and allwhere wanted to differentiate its offering at the same time it needed to build awareness around its brand.
Approach
Ditto worked closely with allwhere to fight through the crowded future of work space and position its unique story and solution throughout a robust brand social and executive social program.
To effectively launch allwhere on social media and make an immediate impact with its target audience, Ditto prepared:
1.     An audit on allwhere's top three competitors and their social presence

2.     A tone of voice guide outlining allwhere's brand voice and tone on social media

3.     A social strategy defining its goals, target audience and key messaging on social media

4.     A CEO social framework plan to establish Oscar Mattsson as a future of work thought leader on social media

5.     An employee launch kit consisting of example posts and social bio recommendations

6.     A profile kit complete with logistical details about each platform

7.     And a month's worth of social content to post on both allwhere and Oscar Mattsson's profiles throughout launch week and post launch.
In addition to evergreen content that highlighted allwhere's tools and drove traffic to allwhere's website, Ditto produced two weekly social listening reports that identified trending posts and topics in the online future of work community. Ditto then drafted and posted informed, provocative and nuanced responses for Oscar Mattsson that aligned with allwhere's people-first philosophy.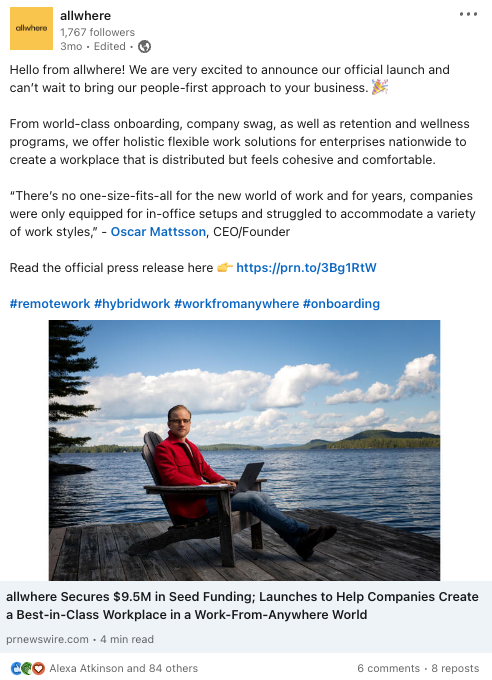 Result
Ditto's thorough launch preparation and smart social copy that responded to timely trending topics resulted in 1.3K+ engagements, 39.3K impressions, and 1K+ follower growth during launch week alone. Ditto's social efforts resulted in increased brand awareness and delivered real leads to allwhere's sales team.
Using a mix of evergreen and timely social content, Ditto earned nearly 111.5K impressions and 2.7K engagements for allwhere's CEO and Founder Oscar Mattsson in a three-month period, who had little to no social presence prior to working with Ditto. Additionally, Ditto's social listening reports and subsequent content resulted in engagement from original authors and other members of the future of work community, follower growth, and positioned Oscar as a key thought leader in the space.

Get in Touch
Drop us a line using the form or call one of our specialists to find out exactly what we can do to promote your online presence or elevate your brand to new heights.