Project Overview
Binance.US is a digital asset marketplace, powered by matching engine and wallet technologies licensed from the world's largest cryptocurrency exchange, Binance. The company approached Ditto to establish thought leadership and a brand awareness campaign. As the U.S. partner to the well-known global brand, Ditto planned to establish Catherine Coley, the CEO of Binance.US, as a subject matter expert to raise awareness for Binance.US. When building the campaign for Binance.US, the main challenge Ditto faced was differentiating the Binance.US brand from Binance's global brand.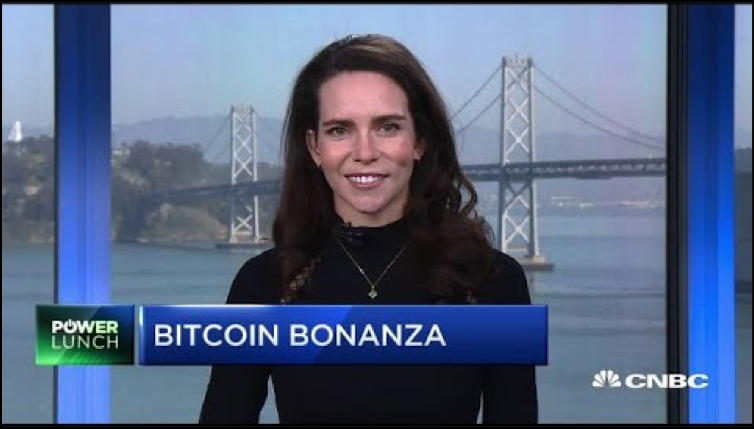 Approach
The Ditto team began their work for Binance.US with a 90-day plan. The team brainstormed ideas on how to differentiate Binance.US from their competitors while also doing in-depth background research. The team took note of who the other CEOs were in the field and analyzed what potential opportunities were available.
Ditto used social media to continue promoting the company through a common source of entertainment today: memes. Binance.US was interested in using creative ways to engage with users and moved forward with the creation of Baby Yoda memes. Catherine Coley was intrigued by the idea and continuously featured it on her Twitter feed. 
Along with the addition of memes on social media, Ditto connected Catherine Coley to a 3-time gold medalist, mother of two, and fitness expert, Christie Rampone, in an attempt to gain more social awareness. Binance.US's crypto audience was given a new pair of eyes by Christie's audience of moms, young female soccer players, and athletes. Catherine taught Christie how to purchase Bitcoin through the Binance.US app all while exploring the meaning of financial freedom and financial health.
With Binance.com's controversial reputation in the United States, the Ditto team was able to shine a light on Binance.US and bring a more positive outlook for the company.
408%
Increase in tweet engagement
56 Million
Website Visits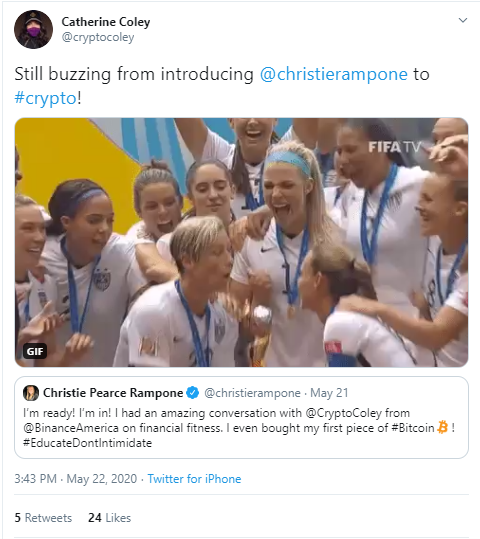 Results
Through the 90-day plan, the Ditto team was able to achieve at least one piece of content per month, 10-16 media hits per month, and a total of 177 highlights in the campaign. Binance.US working with Ditto featured them in 177 pieces of media coverage. 105 features were of the tier-1 category. Ditto's brand awareness campaign for Binance.US averaged 2 broadcasts a month including outlets such as CNBC, Bloomberg, and Yahoo! Finance. Ditto was also able to highlight Binance.US in mainstream publications like Fortune, CoinDesk, Cointelegraph, Market Watch, Business Journals, and Nasdaq. These opportunities helped to give a good educational overview of what cryptocurrency is.
The collaboration with Christie Rampone created a significant increase in Twitter engagement, Instagram, and the Binance.US website. This allowed a 363% increase in link clicks on Twitter, a 408% increase in tweet engagement, a 484% increase in engagement on Instagram, and a 27% increase in web traffic to the Binance.US website. 
Ditto combining social media in the campaign was a big win. It brought a creative outlet into the Binance.US atmosphere with the Baby Yoda memes and relevant Twitter threads. The team was able to bring a different demographic through the connection with Christie Rampone. Due to Ditto's campaign, the Binance.US website received an increase in visits with over 56 million visits.
Get in Touch
Drop us a line using the form or call one of our specialists to find out exactly what we can do to promote your online presence or elevate your brand to new heights.