Project Overview
Bitstamp is the world's longest-running crypto exchange, helping users buy, trade and stake crypto easily and safely, and its US team approached Ditto for thought leadership and brand awareness on social media. Ditto planned to establish Bobby Zagotta, CEO of Bitstamp USA and Global Chief Commercial Officer, as a subject matter expert to raise awareness for Bitstamp and build its reputation. With little to no existing social media presence, Bobby Zagotta sought out Ditto's industry knowledge to establish him on social media and build his network.
Approach
Ditto worked closely with Bobby Zagotta and his team to establish both a Twitter and LinkedIn strategy, find his tone and voice, and solidify Bitstamp's messaging. Working alongside Ditto's PR team to secure coverage of Bitstamp USA, Ditto's social team amplified company news and announcements on Bobby Zagotta's social channels.
Beyond amplification, Ditto sourced trending posts and conversations online for Bobby Zagotta to respond to with insightful and informed perspectives, produced original social videos and placed Bobby Zagotta on live social activations including Twitter Spaces and Twitch livestreams to walk crypto users through new Bitstamp features and tools, and activated Bobby Zagotta's network of crypto MVPs to share and engage with his content.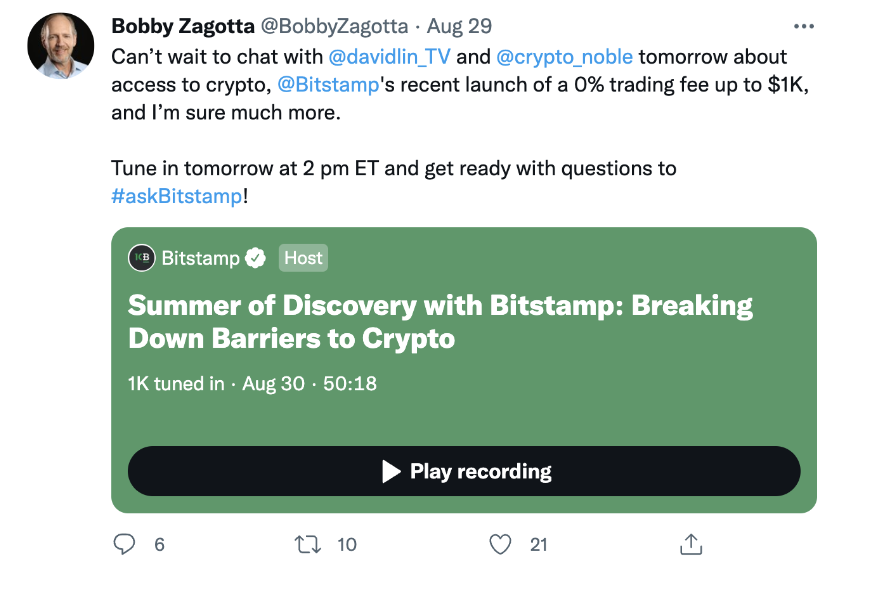 Result
Within five months, Ditto was able to grow Bobby Zagotta's LinkedIn following by 24% and establish his presence on Twitter. Using a strategic mix of amplified coverage, original social video, live social activations, and insightful perspective on market trends, Ditto earned Bobby Zagotta nearly 300K impressions, 5.6K engagements, and 41K+ video views.

According to Social Status, the average Twitter engagement rate for 2022 has stayed below 1%, but Ditto maintained an engagement rate above 2% for Bobby's Twitter account from April to June.
Get in Touch
Drop us a line using the form or call one of our specialists to find out exactly what we can do to promote your online presence or elevate your brand to new heights.