Project Overview
Diamonds that Care is a Russian-based modern, elegant jewelry brand that uses ethically sourced brown diamonds for a global initiative that helps people in need. Each piece included in the collection is engraved with an "I Care" message that symbolizes generosity from whoever owns the corresponding diamond jewelry. The brand is exclusively available at Brilliant Earth where 10% of every Diamonds that Care purchase supports Feeding America's COVID-19 Response Fund. In efforts to raise brand awareness in the U.S., the company reached out to Ditto to execute three influencer campaigns to promote the brand. Ditto connected with multiple influencers and was able to create partnerships and sponsored content through the influencers with Diamonds that Care products.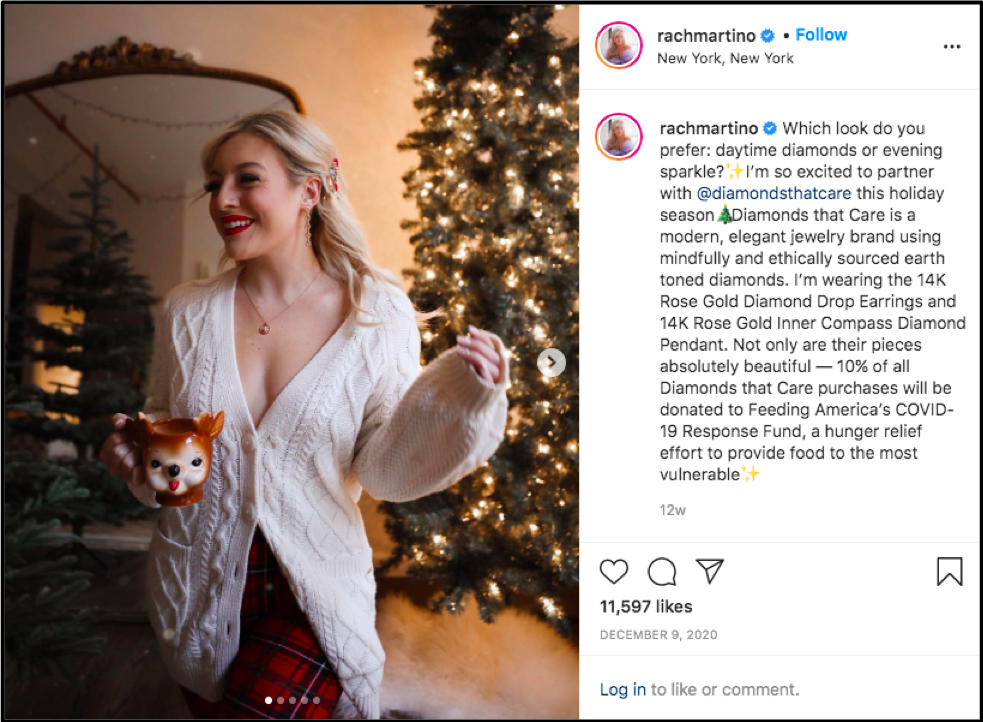 Approach
The Ditto team started the 90-day PR plan with a strategy of offering different options and budgets for the influencer campaign. Along with the strategy, the Ditto team compiled a list of over 30 influencers based on their engagement rate, target audience, previous partnerships, like-minded messages, and conscious consumerism.
Diamonds that Care and Ditto agreed on having three Instagram influencers involved in the campaign. Over time, Diamonds that Care decided to increase the scope from three influencers to seven and also had a tight deadline of having pieces delivered and content created and posted by December 18, 2020. This gave the Ditto team only 20 days to conduct the influencer campaign and created a tight time crunch. 
The team initially selected influencers based on who they personally followed and eventually reached out to their respective talent agencies. This allowed Ditto to work collaboratively and in direct contact with the influencers themselves. One major challenge that arose while working with the influencers was that the Ditto team worked around logistics to make sure that we could successfully circulate nine pieces of product to seven influencers within the corresponding time.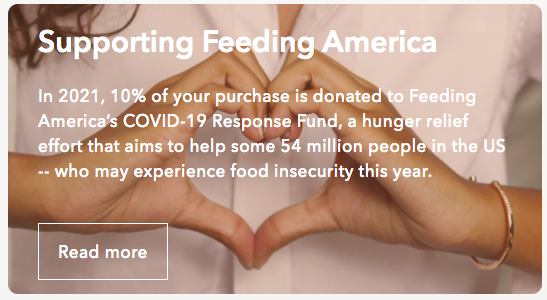 Results
Diamonds that Care was featured on 7 different influencers' Instagram platforms to inlude Ella McFadin, Maria Vizuete, Alyssa Lynch, Whitney Fransway, Rachel Martino, Andrea Pion Pierre, and Jules Jacobson. The influencer campaign helped Diamonds that Care achieve over 1,759 link clicks, and a desired increase in sales and proceeds for their initiative with Feeding America. Through 3 months of outreach, the Ditto team secured positive influencer relationships, handled all logistics for the valuable samples, coordinated inventory availability, and managed contracts.
Get in Touch
Drop us a line using the form or call one of our specialists to find out exactly what we can do to promote your online presence or elevate your brand to new heights.