Project Overview
Hiro Systems builds tools for the Stacks community, enabling developers to not only build more efficiently on the Bitcoin blockchain, but to also create the impact they seek with their dApps and products. In June 2022, Hiro attended Consensus 2022 – a flagship crypto and blockchain industry convention – as a key representative of the Stacks ecosystem. Especially given that Hiro was, for the most part, attending Consensus 2022 under the Stacks banner, the client needed to establish their presence at the conference while also speaking to the core tenets of the Stacks community. What's more, Ditto's PR team had also secured Hiro Systems' CEO, Alex Miller, a number of live and taped interviews that the client wanted to promote and amplify on social media.
Approach
In the months leading up to Consensus 2022, Ditto worked with Hiro extensively to identify the client's main priorities heading into events. Ditto produced a social campaign ahead of time that included all Twitter and LinkedIn social media copy to promote client speaking engagements. Planned copy was specifically tailored to reflect trending conversations, keywords and hashtags that were circulating around social media about Consensus.
However, Ditto's Consensus 2022 social campaign for Hiro featured more original video content than the client's previous events-based campaigns. Ditto not only wanted to leverage the popularity of Consensus 2022 on social media for Hiro, we also wanted to utilize one of the most effective tools on platforms – social video – to put the client and its' spokespeople in front of a wider audience.
As a result, Ditto filmed everything from activation videos featuring Hiros, to interviews from the show floor between Alex Miller and Hiro staff. The Ditto team also managed to capture spontaneous staff moments at client-side events away from the main expo hall, ensuring that Hiro's followers had a more holistic view of their favorite community members.
Additionally, Miller's interviews meant that he was a top priority for content capture at the event to establish him as a key spokesperson for Hiro. This meant that Ditto made sure to catch Miller at both live and taped interviews to help followers understand what was upcoming for Hiro's CEO.
26.8K+
Impressions over 10 campaign posts
1.5K
Engagements over 10 campaign posts
35%
Twitter Account Engagements for month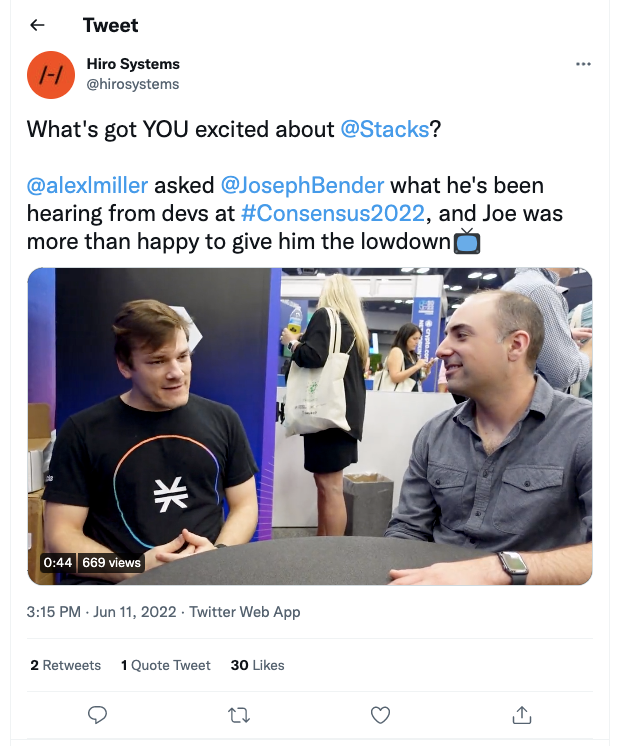 Result
Ditto's digital team achieved stellar numbers for Hiro's social media accounts during the month of June, and the biggest driver of those numbers was the Consensus 2022 campaign. This means that in just 10 tweets, Ditto was able to help Hiro significantly amplify their online presence. In a month where the developer tool company's social media impressions and engagements continued to grow by double digits month over month, the Consensus 2022 campaign notched over 26.8K impressions, which accounted for almost a third of the client's Twitter impressions in June. The 1.5K engagements over 10 tweets also accounted for over a third of Hiro's engagements on Twitter for June. 
The tweets with the highest impressions and engagement numbers from Hiro's Consensus 2022 campaign – many of which still remain the company's top posts on social media by impressions and engagements – were the tweets that included photos and videos taken during the conference duration and published in a timely manner. This spoke to Ditto's dedication to not only leveraging key conversations around flagship industry events for clients, but also to a deep understanding of how social media algorithms work to favor visual content, and what kind of visual content can achieve the best results.
Get in Touch
Drop us a line using the form or call one of our specialists to find out exactly what we can do to promote your online presence or elevate your brand to new heights.