Project Overview
Vise is a portfolio management platform powered by Artificial Intelligence (AI), designed to help the modern financial advisor grow faster and save time. Ditto and Vise's PR relationship started in March of 2020 with a Series A funding announcement already on its way. Vise was also on a mission to tell its teenage founder story in the AI / Financial industry aiming to disrupt a $85T market. Ditto was tasked with meeting the client's high expectations and securing big coverage right out of the gate.
Approach
Ditto started off with a carefully curated plan. The team connected with the Vise founders, along with their lead funding partner, Sequoia, and utilized a long list of financial technology media and mainstream contacts to put a results-driven campaign in motion.
Vise's Series A funding announcement presented a prime opportunity for Ditto to get coverage. Ditto used the momentum from the funding announcement in mainstream outlets such as Business Insider and The Wall Street Journal to keep Vise in the news week-over-week. The team offered expert quotes and highlighted Vise's co-founders as young thought leaders in the fintech industry.
After the funding announcement, Ditto had to get creative and highlight Vise's innovative AI technology. AI and automation are often thought of as "job killers," but Ditto strategically messaged Vise to show how the company uses AI for the opposite effect to help advisors get better at their jobs and to grow their businesses by taking on more clients.
Ditto met Vise's media goals and beyond with a targeted approach that would eventually garner what, Ditto CEO, Trey Ditto, referred to as "the most coverage for a Series A announcement to date."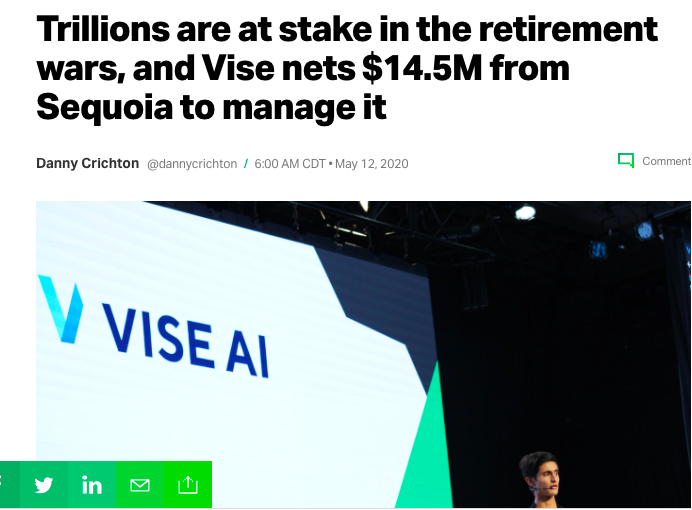 Results
In just 3 months, Vise was the subject of 18 pieces of coverage, with 10 of them being tier-1 hits. Highlights included coverage in Business Insider, Axios, CrunchBase, FA Magazine, Finextra, InvestmentNews, TechCrunch, Law360, RIA Intel, and WSJ Pro VC, and other high-profile financial and tech publications.
Ditto's coverage put Vise on the map and enabled them to gain a following and build media relationships. Shortly after the company's Series A announcement, the company was able to secure Series B funding. Many of the outlets that Ditto introduced Vise to are still speaking to them, as many new stories that have surfaced. Ditto planted the seeds for a successful foray into the media spotlight that continues today.
Get in Touch
Drop us a line using the form or call one of our specialists to find out exactly what we can do to promote your online presence or elevate your brand to new heights.