Project Overview
Hiro Systems is a company that builds tools for the Stacks community that enables developers to not only build more efficiently on the Bitcoin blockchain, but to also create the impact they seek with their dApps and products. In April 2022, Hiro was one of the key sponsors of Bitcoin Unleashed 2022, a two-day conference in Miami with Bitcoin-focused programming. This was Hiro's first big conference sponsorship. Ditto stepped in to help the developer tools builder amplify their involvement at Bitcoin Unleashed 2022 with a social media campaign that highlighted Hiro's presence and established them as a key player in the blockchain technology space.
Approach
Ditto wanted to jumpstart the conversation around Hiro before their team arrived in Miami, taking a proactive approach to social promotion. This was done by creating an entire social campaign that incorporated the company's two focus platforms – Twitter and LinkedIn – and utilized them to ramp up to the conference and promote Hiro at Bitcoin Unleashed. This included providing Hiro with drafts of all social copy ahead of time to allow for immediate socialization that matched real-time developments focused on Hiro at the conference. Ditto also identified trending keywords and hashtags that allowed Hiro to not only leverage the social conversation about Bitcoin Unleashed, but to also take advantage of increasing discussions around Bitcoin Miami (that took place later that week) for more brand exposure.
But most notably, in order to give Hiro's followers the most accurate glimpse into Bitcoin Unleashed as possible, Ditto provided the client with content capture services to add to the conference experience. In addition to photos and videos that featured Hiros and activations at the event, Ditto also shot, edited and distributed original videos featuring the company's most prominent speakers for followers to receive additional insight from Hiros at Bitcoin Unleashed.
Essentially, Ditto gave Hiro a social campaign that focused on three things: Getting in on trending conversations, real-time content capture and increasing diversity of content. The intent was to fully leverage the most effective tools for social promotion on Twitter and LinkedIn.
+174%
LinkedIn Post Clicks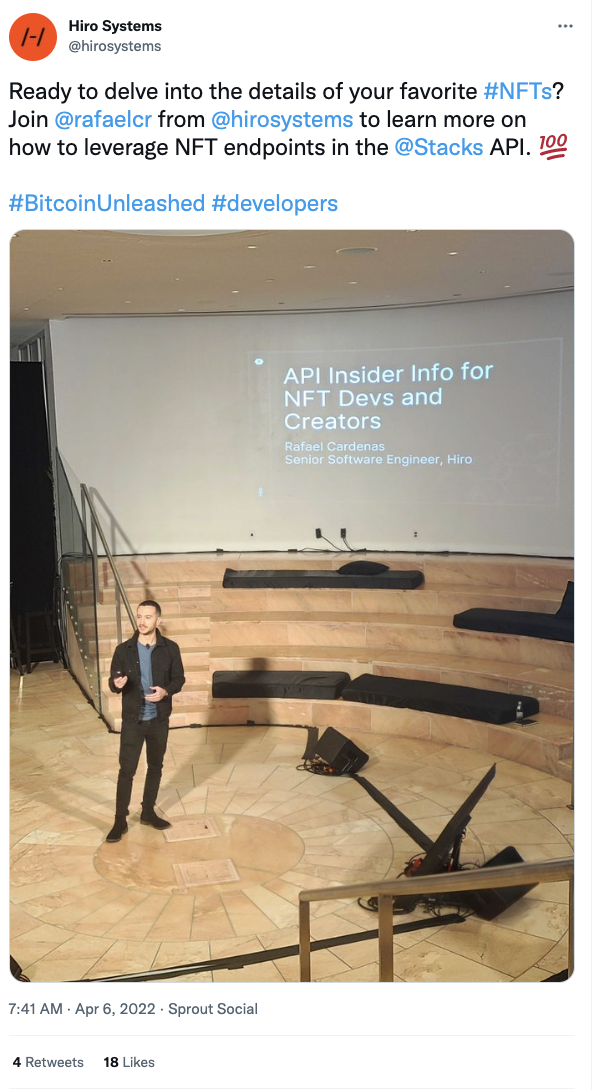 Result
The social campaign that Ditto created for Hiro's Bitcoin Unleashed appearance led to a leap in the client's social media numbers. On Twitter – Hiro's biggest social media platform – the client's Twitter engagement rate for June increased by 36 percent from the month prior, with an increase of 52 percent week over week during the duration of the conference as a result of Ditto's heavy event promotion.
The main benefactor of the Ditto-Hiro Bitcoin Unleashed social campaign, however, was Hiro's LinkedIn profile, which the client had been eager to grow. During the Bitcoin Unleashed campaign, Hiro more than doubled the number of clicks on its LinkedIn profile's posts and was close to seeing double its weekly average in terms of engagement. 
In the months following Bitcoin Unleashed, many of the tweets and posts that were published during the event campaign remained some of the posts with the highest impressions on Hiro's social accounts. This was particularly true of the posts that involved photos and videos, and was a consistent pattern going into the Ditto-Hiro Consensus 2022 campaign. 
Get in Touch
Drop us a line using the form or call one of our specialists to find out exactly what we can do to promote your online presence or elevate your brand to new heights.